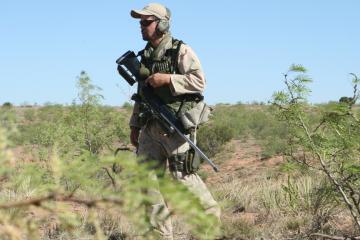 Each field course was about 3.3 miles in length, with ten shoot stations spread out. Water and exertion management was a big part of this match. Make sure to follow the path!

The most popular rifle make was Remington (52%) followed by Accuracy International (17%), then Surgeon (13%), McMillan/Tubb (8%), and one each Howa and Husqvarna. The .260 Remington was the dominant cartridge (32%) followed by .308 Winchester (26%), then 6XC (9%), and one each of .260-AI, .270 Winchester, .300WM, .243WIN, 6.5-06-AI, 6.5-06, 7 WSM, 7 RSAUM. The .264/6.5mm bore diameter was completely dominant (43%) followed by .30 (30%) and then 13% shooting .243 and .284. The only custom builder with more than one gun present was GA Precision (2). 78% of the competitors shot hand-loads, the rest shot factory. Hodgdon powders totally dominated (89%) with Alliant and VV each with 5%. Sierra bullets lead with 63%, followed by Lapua (22%) and Berger (16%).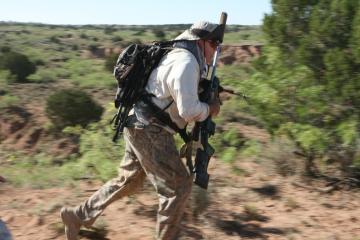 Stages with only three targets required the shooter to move to a second position to re-engage the targets. Scott Boiko hauls ass to the second position on a South course stage.

Expensive scopes were the rule. Nightforce lead with 32%, followed by S&B (27%), then US Optics (18%), Leupold (13%), and 4% shooting Burris or Tasco. Half the scopes had mil-based reticles, followed by 30% MOA and 10% with the DTAC reticle. However, 70% of the scopes had MOA knobs, while 20% had mil knobs. Range-finders were mixed with 64% using Leica Geovids for binoculars, folllowed by Nikon, Bushnell, Canon, Minox, Pentax, and Steiner. The Leica range-finders (in both LRF and Geovids formats) dominated with 75%. The Swarovski Laser Huide had 20%, while 5% used the Bushnell.

From the perspective of the match director, I believe the match was a success. We had no major glitches or complaints, and no one got hurt. There was a some trouble with the wind blowing away the trail flagging on the South course, but everyone made it through. One stage had to be thrown out due to target damage. About 50% of the shooters were Steel Safari alumni, and the other half were new to the match. For the first year running the match as Colorado Multigun, we made minimal changes to the format. Will there be any more changes for 2009? I don't know yet, but I would like to be able to accept more than 30 shooters into the match. Based on a review of this year's logistics, we should be able to figure out if that is possible for next year. There is also talk of expanding the LRSM to add more rounds. I thank the competitors, Dave and Lorraine Wheeler, Mike Kolar, Michael Field, Chuck Ward, John Sternberg, and all the sponsors for making this a great match. Stay tuned for 2009 news!
---
VIDEO
Colorado Multigun 2008 Steel Safari Rifle Match
The Steel Safari is a non-standard contest that examines practical rifle skills, including target recognition, range estimation, wind doping, trail skills, and marksmanship- skills relevant to both tactical applications and hunting. The crux is target location, ranging, and making first-round hits in field conditions, while moving through the natural terrain. (Added: August 4, 2008)
VIDEO EDITING COURTESY OF GEORGE DELENA