Comments from Competitor Ray Sanchez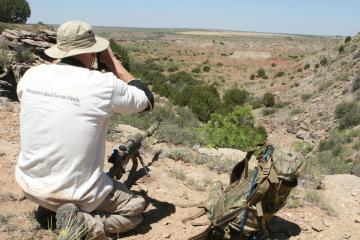 Target location is a key component of the Steel Safari challenge. Ray Sanchez tries to get a handle on targets on a stage on the North Course.
I don't get a chance to shoot nearly as many matches as I would like to, so when I take the time I want to go to a class act. The Steel Safari is a great match. The amount of work that CMG goes through to place the steel and find challenging but practical shooting positions is much appreciated. The main draw to me for this match is that it is a field event. You leave the starting point in the early morning with your rifle, ammo, water, and gear for the day. The terrain is not terribly hard but out in New Mexico desert in 106 degree heat you have to pay attention to stay on the marked trial. We had a few guys go astray this year.
For the field stages you had either three targets that would be engaged from two shooting positions or one shooting position with six targets. At each stage you had five minutes to find, range and engage the targets. The use of a quality LRF aids greatly in finding and ranging. Five minutes for six targets is plenty of time if you're squared away. Once targets are located and you start to engage them you better have good data for your load. Ten inch squares hung as diamonds out to 800 yards or so and four inch wide plates at closer ranges do not leave much room for error in your wind call - trust me on this one, I was shooting a 308.
If you want to test your field shooting skills, get that expensive rifle of yours off the bench and maybe even scuffed up a bit: try your hand at the Steel Safari. This is not a match for posers, you get just one shot at each target so only hits count.
---
The following sponsors made the match possible. Please give them your support and a note of thanks.
Magpul Industries
Thunder Beast Arms Corporation
Legacy Sports & John Dustin
Surefire
U.S. Optics
CS Gunworks (Mike Cecil)
Kifaru
Sierra Bullets
Lapua
Dillon Precision
Clark Custom Guns
Stag Arms
IOR Valdada
Big American Man - Ray Sanchez
---
For more reviews and discussion of the 2008 Steel Safari, see this thread on SnipersHide:
2008 Steel Safari Match - NOW + RESULTS & PHOTOS

---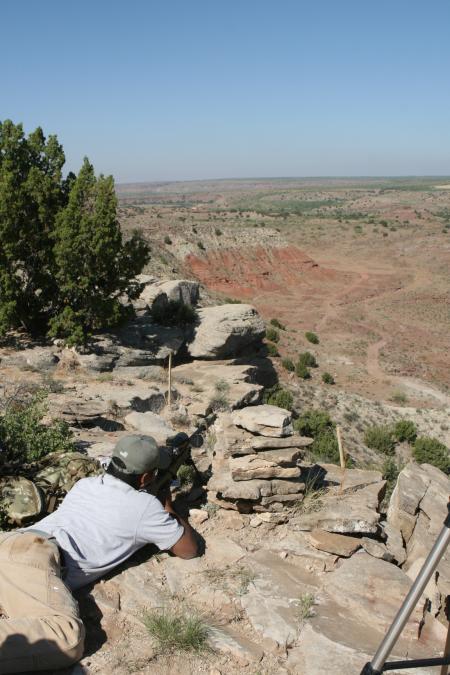 The geographical features available to shoot from at the Steel Safari can be breathtaking. Shooter Jimmy Holdsworth engages one of the longest shots in the main match from this position on the North course.
RESULTS

MAIN MATCH               (hits)
1	Mark Allison	 82
2	Todd Reynolds	 74
3	Mike Dowd	 73
4	George Delena	 72
5	Jimmy Holdsworth 69
6	Jerry Newman	 67
7	Ray Sanchez 308	 67 
8	Chuck Ward	 65
9	Stan Sanchez	 65
10	Jim Brown	 60
11	John Sternberg	 60
12	Tim Cannon	 60
13	Garth Reader	 58
14	Ed Belfour	 57
15	Cody Carroll 308 56
16	Matt Midcap 308	 55
17	Bob Shigemura	 55	
18	Scott Boiko	 53
19	Dirk Reader	 53
20	John Dustin	 47
21	Paul Pompeo 308  45
22	Gary Mowery	 43	
23	Mike Cecil 308	 35
24	Jason Hicks 308	 28	
25	David Brandt	 26
26	Jeff Badley	 18
27	John Wray 308	 17
* LRSM results used as tiebreaker

Long-Range Side Match
   (LRSM)                (points)
1	Jerry Newman	 81
2	George Delena	 75
3	Jimmy Holdsworth 61
4	Chuck Ward	 59
5	Mark Allison	 49
6	Stan Sanchez	 46
7	David Brandt	 45
8	Scott Boiko	 44
9	John Dustin	 44
10	Dirk Reader	 43
11	Jeff Badley	 42
12	Cody Carroll 308 39
13	Mike Dowd	 34
14	Mike Cecil 308	 30
15	Tod Reynolds	 29
16	Paul Pompeo 308  28
17	Matt Midcap 308	 28
18	Jim Brown	 26
19	Garth Reader	 25
20	Ed Belfour	 17
21	John Sternberg	 16
22	Ray Sanchez 308	 14
23	John Wray 308	 11

End.