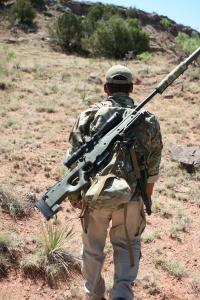 Each field course was about 3.3 miles in length, with ten shoot stations spread out. Water and exertion management was a big part of this match. Make sure to follow the path!

The most popular rifle make was Remington (33%) followed by Surgeon (24%), then Stiller, Savage, and AI (9%), GA Precision (6%), Goddard (3%), Howa (3%). .308 was the most popular cartirdge (27%) follwed by .260 Remington (24%), 6x47 (14%) and a one or two each of 6.5x47, 6.5-284, 6XC, .260AI, .300WM, 7RM, 7WSM, 7RSAUM. The .264/6.5mm bore diameter was dominant (39%) followed by .30 (30%), 6 mm (21%), and 7mm (9%). Of the custom rifles, the dominant builder was GA Precision. The most popular barrel length was 26" (42%) followed by 24" (27%). All but one competitor used handloads. Hodgdon powders totally dominated (72%) with Alliant second (21%). Sierra bullets lead with 36%, followed by Lapua (30%) and Berger (18%), then a few each of DTAC, Hornady, and JLK. Lapua cases were dominant (45%), with Remington following (18%).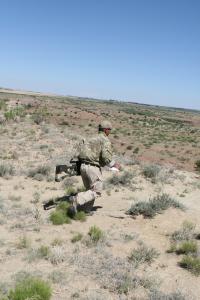 Stages with only three targets required the shooter to move to a second position to re-engage the targets. Jimmy Holdsworth hauls ass to the second position on a South course stage.

Expensive scopes were the rule. Nightforce lead with 45%, followed by S&B and USO (15%), then Leupold (9%) and one or two each of IOR, Burris, Premier Reticle, and Tasco Super Sniper.

This year's match was an overall success. We had no major glitches or complaints, and no one got hurt. Our improved trail flagging worked and nobody got lost. We made almost no procedural changes compared to 2008, and we had 4 more shooters. There is high demand for this match and I would like to get in 45-60 shooters, but that is impossible with a major change to the format. I thank the competitors, Dave and Lorraine Wheeler, Mike Kolar, Michael Field, Chuck Ward, John Sternberg, and all the sponsors for making this a great match. Stay tuned for 2010 news!

I normally just post the results at the bottom of the report; however, this year after the main match we had a straight-up tie for first place. Ray Sanchez and Jon Beanland tied at 86 points. Ray on in the sudden-death shootoff on the front range shooting KD targets at 100, 200, and 300 yards from "any position other than supported prone." Great shooting Ray!