"Just Like the MP-5, But in .22!"
Here's a brief review of the GSG-5, after about a week hands-on with the rifle. In a few months when we've flogged it with tens of thousands of rounds, I'll write a follow-up to this article giving our long-term impressions and conclusions about the GSG-5, and a bunch more SBR/suppressor options. Enjoy!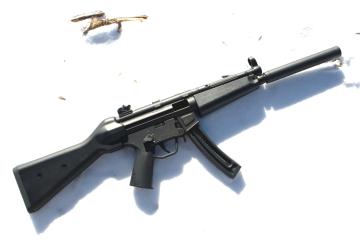 The GSG-5 ships with a fixed stock fake suppressor to hide the 16-inch barrel. Import approval was easier because it's rimfire.

I don't review a lot of.22LR guns. Ok, I'll be honest- I don't shoot .22 that much nowadays and this is the first .22 I've done a review for. There's nothing wrong with the .22, and I spent a lot of time growing up shooting soda cans, rocks, and old skateboard wheels with a 10/22. These days, I shoot a lot of "practical" matches and do some tactical training, so the .22's have been off my radar. However, in the last six months, as a result of the skyrocketing ammunition prices, I've been asked by a couple shooters if we had a .22 class in our local 3-Gun matches. Furthermore, for basic marksmanship and weapons-handling practice, a .22 can be a very affordable alternative to the centerfire weapons we would prefer to shoot.

The GSG-5

I stepped into our local Cop Shop and Black Rifle Emporium, aka, Jensen Arms and its owner Bob Jensen handed me something that looked like an HK MP5, but had .22LR stamped on it. "The GSG-5," he said, "this is the only one not locked in the importer's office right now. You should review it." I know better than to refuse a chance to play with a new and neat-looking gun, so here we are.

American Tactical Imports, Exclusive Importer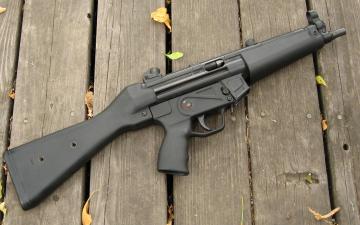 Without having both guns side by side to compare, the GSG-5 is practically identical to a real MP5 (pictured).

Bob gave me the number for Amchar's President and CEO Tony DiChario, so I gave him a call. Amchar is one of the largest gun wholesalers in the country, and a primary (but not sole) distributor of the GSG-5 in the US. The GSG-5 is actually imported by American Tactical Imports, a related company, of which Tony is also the CEO.

The GSG-5 is manufactured by German Sport Guns. According to Tony, GSG employs a bunch of folks who used to work at HK, who have a passion for designing .22LR versions of the world's best weapons. Ever since the British SAS stormed the Iranian Embassy in 1980, the MP5 has been one of the most well-known tactical weapons. With very few "MP5-like" guns available in the U.S., it was a natural choice with a big latent demand. Tony also told me that GSG was responsible for the design of the SIG Moqsuito. Besides rimfire, GSG also builds airsoft versions of popular weapons.

The GSG-5 was designed from scratch to be a very close replica to the MP5. The controls are identical. The appearance is very close, and unless you have a real MP5 right there to compare against, you'd be hard pressed to find the differences.