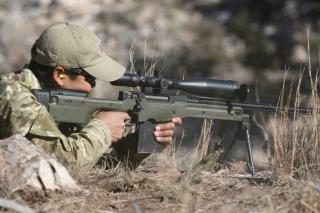 Shooter Jimmy Holdsworth uses the MOA-based NP-R2 reticle in his Nightforce to specify elevation for fast target engagements at a military slant-sniper range in Wyoming.

Next up is Nightforce, whose NXS line of scopes has become very popular with the long-range crowd because of their large elevation adjustment range, thin reticle choices, and reputation for withstanding the extreme recoil forces produced by large magnums equipped with muzzle brakes. The NXS models most appropriate for long-range shooting are the 3.5-15x50 mm, 3.5-15x56 mm, 5.5-22x50 mm, and 5.5-22x56 mm. The larger objective size adds bulk and weight, but helps low-light performance and enlarges the exit pupil approximately 10-percent. The 3.5-15 has 110 MOA of total elevation adjustment and the 5.5-22 has 100 MOA, which should be enough to get .308 to 1000-yards with a level base. The elevation knob has 10 MOA per turn with fourth-MOA clicks. An inclined base is still required for 1400 yards and further for calibers that can make it that far, such as the .338 Lapua Magnum or .50 BMG. To match angular systems, the NP-R1 and NP-R2 reticles are popular with their hash marks every several MOA. Nightforce does not currently offer zero-stop knobs to civilians, and has no first focal-plane reticles.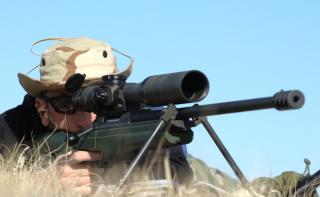 The author's shooting partner, Ray Sanchez, has made many 1000 to 1600-yard hits with the 3.8-22x44mm USO SN-3 on his TRG-42.

US Optics, based in Buena Park, CA, is a small manufacturer of custom high-end scopes and was the repair center for the old USMC Unertl sniper scope. While USO has a variety of scope models, their most popular scope for practical long-range shooting is the SN-3 3.2-17x44 mm. These are built to the customer's specs, and are available with almost any combination of tube diameter, knob types, clicks, reticles, and objective lens size. To draw a contrast to the Leupold and Nightforce offerings, with the USO, you can get a zero-stop multi-turn elevation knob with 0.1-mil clicks and a mil-dot or mil-hash reticle to match, or you can get MOA clicks and a MOA reticle if that's how you are trained. With a 35-mm tube, the zero-stop EREK elevation knob typically gives at least 72 MOA up from the zero-stop, which is roughly equivalent to a 100-MOA total elevation scope on a 20-MOA base. Needless to say, the SN-3 has more than enough elevation for any rifle. Priced starting at about $2000, the optical clarity and low-light performance are dramatically better than the Leupold and Nightforce scopes.

Schmidt & Bender's PMII line is a standard to which high-end long-range rifle scopes are judged. S&B is popular with European militaries, and is the issued scope for the British snipers using the Accuracy International rifle. Recently, the S&B 3-12x50 mm PMII won the contract for the new USMC sniper scope. The PMII is also available in 4-16x42 mm, 4-16x50 mm, and 5-25x56 mm configurations, with fourth-MOA or 0.1-mil clicks and a single-turn or two-turn zero-stop elevation knob. The single-turn gives 13 mils in one turn, and the double-turn between 22 and 26 mils total elevation. On the two-turn knob, if the knob is turned to the second revolution, a series of windows at the top of the knob switch to yellow to indicate the second turn is active. Reticle choices are mil-based, including mil-dot and several mil-hash types, and all are in the first focal-plane. Premier Reticle is providing Gen 2 mil-dot reticles for the USMC contract scopes. The PMII provides exceptional optical clarity and brightness. Compared to a similar USO SN-3, the PMII has a slightly larger exit pupil and more eye relief. The PMII is also smaller and lighter than the USO.