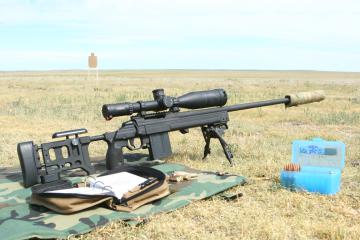 The KRG Whiskey-3 Chassis paired with the Tikka T3 and topped with good glass allows entry into the world of long-range shooting at a very attractive price.

The mystique and allure of long-range shooting is almost universal. During the last ten years, there has been an impressive expansion in both interest in long-range shooting and the quality of equipment available. The transition from legacy fixed-format competition to practical or "field" formats has also swept through long-range shooting and ignited interest in whole new groups of shooters. The KRG W3C stock for the Tikka T3 is designed for this expanding market. This stock system gives the budget-priced T3 rifle full adjustability and many of the features sound on the expensive Sako TRG line.

Kinetic Research Group, INC ("KRG") is made up of several former US Army Special Operations soldiers who have been avid shooters since youth and share a passion for firearms design. I first met Justin J. a few years ago when he worked for Magpul. (They prefer to keep a low personal profile so I'll omit last names in this article.) At the time, Magpul's .308 rifle -- the Massoud -- was in development and Justin was the principal designer for the rifle's operating system. Prior to his work at Magpul, he was involved in the design of a straight-pull bolt-action rifle called the "Ballista", the design of which was sold to another company. KRG was officially incorporated in 2010 when other members finished up defense-related work and the time was right to step out into the marketplace.

The W3C allows you to drop your T3 action directly into the stock and immediately get the benefits of a fully-adjustable, modern precision rifle stock system. No bedding is required. The W3C is fully adjustable for length of pull, comb height, and different size pistol grips are available. Rifle to shooter "fit" is simply critical for accuracy and repeatability. There are two problems that I see when training new long-range shooters with regard to rifle fit. The first is that the stock is too short and the second is that the comb is too low. Both of these prevent them from resting their cheekbones on the comb of the rifle and induce neck stress as they try to get a clean sight picture through the scope.