The chassis provides ambidextrous sling snap-hook loops, in addition to a Harris bipod mount and a receptacle for the factory Parker-Hale-style bipod. The stock is adjustable for length of pull and comb height, and its design puts the bore centerline low compared to conventional stock designs.

Accuracy International provides accessories for the AWSM including bipod, hand-stop, sling and extra bipod mounts, headspace gauges, iron sights, mirage bands, muzzle brakes, adjustable butt pads, one-piece scope mounts, shooting and biathlon slings, hard and soft cases, and a barrel change kit.

Sako was established in 1921 to build firearms for Finland's Civil Guard and played a key role in that country's defense in WWII. Lapua began cooperating with Sako on the .338 Lapua cartridge in 1988, and this eventually yielded the TRG-41 sniper rifle. Sako updated the design and dubbed it the TRG-42, which the Finnish Army adopted in 2000.

The TRG-42 receiver has a solid closed-top design with an integral dovetail, intended for use with the Sako scope mounts. The receiver is mounted directly to an aluminum profile by three screws, removing the necessity for bedding. The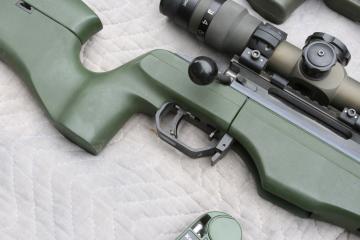 The TRG-42 has a Garand-style safety, three-way adjustable trigger, and magazine release located forward of the trigger guard. The bolt catch is visible rear of the ejection port.

TRG bolt has three large lugs, providing a 60-degree bolt throw, an external claw extractor, and a spring-loaded ejector.

The TRG-42 has a 27 1/8-inch tapered contour cold-hammer-forged barrel. The chrome-moly barrel may resist throat erosion batter than stainless steel. The TRG-42 is also available with a stainless steel barrel.

The TRG stock comprises two shells which screw onto the aluminum profile: one for the fore-end, and one for the butt-stock. Because these stock shells connect directly to the aluminum profile, there is no need for bedding and the stock does not affect accuracy. A folding stock rear shell is available for the TRG series.

The TRG stock provides quick-detach sling swivel mounts on both sides of the butt-stock; the front of the sling attaches to a sling mount on either the top or side of the rifle. The TRG detachable magazines are double stack, single feed, and have a capacity of five rounds of .338 Lapua.

The two-stage trigger pack is easily removable from the rifle. It can be adjusted from two to four pounds at the second stage, and can also be tuned for take-up, length of pull, and position. The safety is mounted inside the trigger guard like an M1 Garand safety.

Sako provides accessories for the TRG-42 including an adjustable butt pad, hard-case, slings, "Optilock" quick-detach and tactical scope mounts, muzzle brake, bipod, target-style iron sights, and 1913 Picatinny rail.