Suggested Packages

Here are some suggested packages at different price points. Note that I bias money spent towards optics, meaning that I tend to "upgrade" optics before I upgrade other components. All the options here are listed for .308 Winchester because it is the ideal "starter" long-range cartridge. Similar or identical options are available in the other calibers listed earlier. Cheapest to most expensive: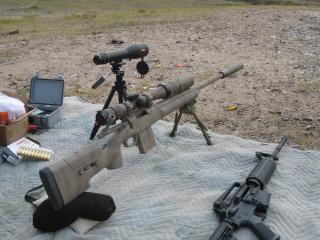 "RayDog" Sanchez had this .308 built on a Surgeon action by Surgeon's owner Preston Pritchett. It is fitted with a US Optics SN3 and a JET model suppressor.

Savage 10FP or Remington 700 PSS in 308 Winchester. Take the rifle in factory configuration, add Badger or Leupold bases and rings. Use a 20 or 30 MOA base. Add a used Leupold Mark 4 3.5-10x40mm scope. If you can't afford the Leupold, the Tasco 10x42 "Super Sniper" at about $300 is reported to be the best buy in that price range. Get a Harris S-BR bipod, and a basic sling. Shoot Federal Gold Medal Match ("FGMM") 175gr or Black Hills 175gr ammunition. Find a use Leica LRF 900 or 1200 for around $300.

I recommend against "upgrades." 99% of these factory rifles will shoot 1 MOA with the FGMM or Black Hills ammunition from the box. If the trigger is very heavy, get a local gunsmith to set it to 4 lbs. Fix the ergonomics of the stock as best you can, and then get started shooting. You should be able to get all this for under $1000, or no more than $1500.

Custom Rifle from GA Precision, KMW Precision, or Surgeon Rifles in 308 Winchester. Have it built on a Surgeon action, and put in either a McMillan A-5 stock or an Accuracy International AICS stock. (In the case of the McMillan, have it fitted with Badger "bottom metal" for the AICS magazines.) Get Badger or Seekins Precision rings. Buy the best scope you can just barely afford-- the S&B PMII 3-12 (or 4-16); the USO SN3 3.2-17x44mm; or the Nightforce NXS 3.5-15x50mm. In the case of the S&B or USO, get a metric reticle (mildot or mil-hash) and metric knob clicks (0.1 mil). Shoot the Lapua 155gr Scenar in either factory loads from Lapua, or your own reloads. Buy the Leica Geovids or Swarovski laser range-finder.

High-end Factory from Accuracy International. Buy a factory AI-AW .308 Winchester, 26" barrel with factory brake, "2.0" chassis configuration (folder). Do not get the factory Picatinny rail. Mount a S&B PMII in the single-piece AI scope mount directly to the receiver. Use the AI bipod. Shoot the Lapua 155gr Scenar in either factory loads from Lapua, or your own reloads. You'll have no excuses. Buy the Leica Geovids or Swarovski laser range-finder.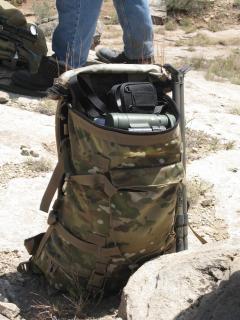 It's tempting to bring a lot of gear, but you'll pay for the extra weight. Packing light has advantages.

Ancillary Rifle Equipment

When shooting in the field, I recommend having the following additional equipment:

Good bipod. The Harris bipod is the standard choice for Remington-style systems. The height should start out low enough to get the lowest comfortable prone position you will use, and the legs should telescope up for more height when it is needed. The Parker-Hale-style bipod have certain advantages, mainly they are quicker and easier to deploy, stow, and operate one-handed, and they have more play and yaw which prevents "hopping feet" which can be a problem with Harris bipods. The SAKO TRG bipod is very stable, but only works on the TRG rifles.

Sling. A good sling is mandatory for carrying the rifle while hiking cross-country, and can be an effective shooting aide when shooting from positions other than prone off the bipod.

Rear beanbag. Many shooters use a small "beanbag" for use under the rear of the stock. This is a handy way to add stabilization to prone positions. Instead of using sand or real beans, the best ones for field use are filled with pea-sized plastic bead filler, which makes them lightweight and not affected by water (wet beans or rice are Not Good).

Backpack. A small to medium sized backpack is useful for "hike and shoot" field events, or just carrying the gear you need along with the rifle. It can also be used as an improvised front or rear rifle rest in improvised positions. I normally carry: rear bag, ammunition, binoculars, laser range-finder, some water, and rain-gear in my pack. This isn't that much stuff and there's no reason to go overboard. I recommend Kifaru packs because they are bomb-proof, comfortable, and made here in Colorado USA. Most "3 Day Assault Packs" are about the right size. My preferred pack is the Kifaru Express.

Suppressor. I strongly recommend using a sound suppressor when shooting rifles. They smooth out the recoil impulse, make things quieter, allow easier shooter/spotter communication, and reduce recoil. In calibers smaller than 338 Lapua, a suppressor will have less recoil than a good muzzle brake, and will be much much quieter.

Binoculars. Binoculars are useful for target location and spotting. If you anticipate difficulty in locating targets and do not have a LRF binocular, I recommend bringing a decent set of regular binoculars. If target location won't be too hard or you are skilled at it, you can do without. I have been very impressed by my set of Leica Ultravids (10x42), but any decent set should work.

Shooting Sticks. Shooting sticks provide an adjustable-height support which is useful for improvised positions in the field, when your bipod won't go as high as you need to make the shot. Stoney Point makes good ones, for $40-60.

Spotting Equipment

If shooting with a partner, it is most convenient to spot your partner's shots simply looking through your rifle scope, and vice versa. Using a set of binoculars, a binocular LRF, or even a LRF monocular are alternatives. In the field, it often does not make sense to haul around a large, high-magnification spotting scope and a tripod to hold it steady. A stationary spotting scope setup which might weigh 4-8 lbs is very effective, but probably better left to stationary shooting, not hiking around.