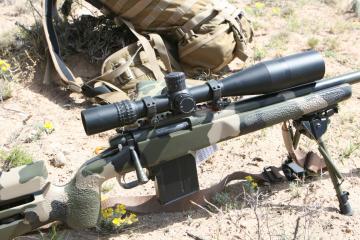 The new first focal Nightforce 3.5-15x50 mm with zero stop looks and feels like the Nightforce models you're used to, but has extra features helpful for practical field shooting.

Next up is Nightforce, whose NXS line of scopes has become very popular with the long-range crowd because of their large elevation adjustment range, thin reticle choices, and reputation for withstanding the extreme recoil forces produced by large magnums equipped with muzzle brakes. The NXS models most appropriate for long-range shooting are the 3.5-15x50 mm, 3.5-15x56 mm, 5.5-22x50 mm, and 5.5-22x56 mm. The larger objective size adds bulk and weight, but helps low-light performance and enlarges the exit pupil approximately 10-percent. The 3.5-15 has 110 MOA of total elevation adjustment and the 5.5-22 has 100 MOA, which should be enough to get .308 to 1000-yards with a level base. The elevation knob has 10 MOA per turn with fourth-MOA clicks. An inclined base is still required for 1400 yards and further for calibers that can make it that far, such as the .338 Lapua Magnum or .50 BMG. To match angular systems, the NP-R1 and NP-R2 reticles are popular with their hash marks every several MOA. The NXS series is also available with mil-based knobs. In this configuration, the elevation knob has five mils per turn with 0.1-mil clicks.

Due to military demand, Nightforce added two key features in 2008: a first focal-plane reticle and a zero stop on the elevation knob. These features are available at extra cost on the 3.5-15x model and fill two of the qualitative gaps that had separated the NXS line from the top-of-the-line US Optics and Schmidt & Bender scopes. With almost all the ideal features of a scope for practical long-range rifle shooting, the Nightforce 3.5-15x50 mm with first focal-plane reticle and zero stop offers a solid scope with good options for practical long-range shooting.