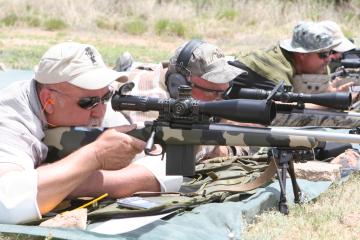 The S&B PMII is also available with 1/4-moa clicks, pictured here, as well as the European-standard 0.1-mil clicks.

Schmidt & Bender's PMII line is a standard to which high-end long-range rifle scopes are judged. S&B is popular with European militaries, and is the issued scope for the British snipers using the Accuracy International rifle. Recently, the S&B 3-12x50 mm PMII won the contract for the new USMC sniper scope. The PMII is also available in 4-16x42 mm, 4-16x50 mm, and 5-25x56 mm configurations, with fourth-MOA or 0.1-mil clicks and a single-turn or two-turn zero-stop elevation knob. The single-turn gives 13 mils in one turn, and the double-turn between 22 and 26 mils total elevation. On the two-turn knob, if the knob is turned to the second revolution, a series of windows at the top of the knob switch to yellow to indicate the second turn is active. Reticle choices are mil-based, including mil-dot and several mil-hash types, and all are in the first focal-plane. Premier Reticle is providing Gen 2 mil-dot reticles for the USMC contract scopes. The PMII provides exceptional optical clarity and brightness. Compared to a similar USO SN-3, the PMII has a slightly larger exit pupil and more eye relief. The PMII is also smaller and lighter than the USO.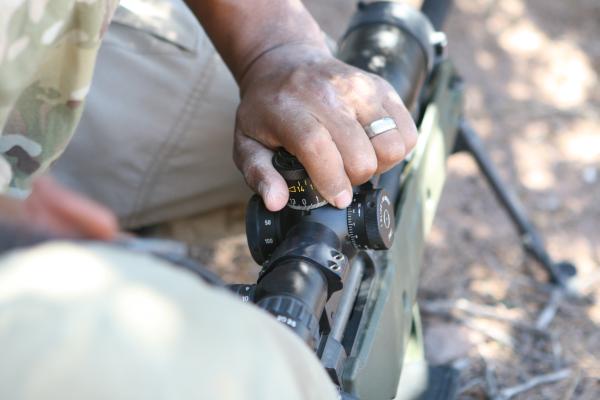 During a field exercise, this shooter resets the elevation on his S&B PMII scope using the zero-stop feature.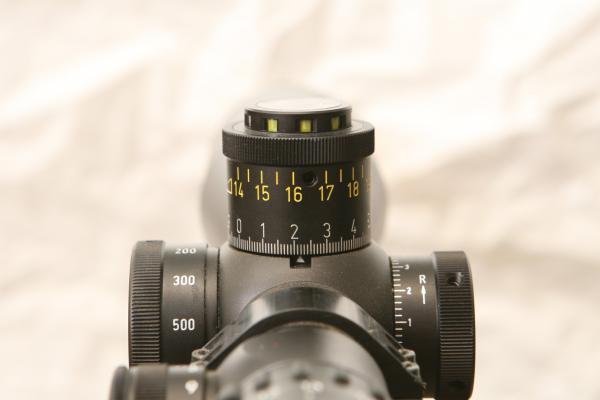 The clockwise rotation of the S&B elevation knob is more natural since we read left-to-right. This knob is dialed to 16.2 mils; the second turn is indicated by the yellow windows at the top of the knob.