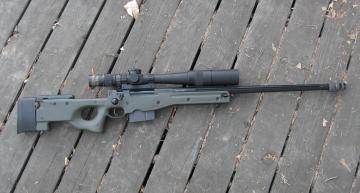 Though built like tanks, the USO scopes exact a penalty with their size and weight. This 3.8-22x44mm SN-3 looks big even on this 50-inch-long .338 Lapua rifle.

US Optics, based in Buena Park, CA, is a small manufacturer of custom high-end scopes and was the repair center for the old USMC Unertl sniper scope. While USO has a variety of scope models, their most popular scope for practical long-range shooting is the SN-3 3.2-17x44 mm. These are built to the customer's specs, and are available with almost any combination of tube diameter, knob types, clicks, reticles, and objective lens size. The most common SN-3 build has parallax adjustment on the objective housing; however, the newer Turret Parallax Adjustment (TPAL) design has the parallax easy to reach near the other knobs. The TPAL design can be customized to put the parallax and illumination adjustment knobs on either side or the top of the turret body. USO's new 5-25x58 mm SN-3 TPAL was designed for ultra long-range shooting.

With the USO, you can get a zero-stop many-click multi-turn elevation knob with 0.1-mil clicks and a mil-dot or mil-hash reticle to match, or you can get MOA clicks and a MOA reticle if that's how you are trained. With a 35-mm tube, the zero-stop EREK elevation knob typically gives at least 72 MOA up from the zero-stop, which is roughly equivalent to a 100-MOA total elevation scope on a 20-MOA base. Needless to say, the SN-3 has more than enough elevation for any rifle. Priced starting at about $2000, the optical clarity and low-light performance are better than the Leupold and Nightforce scopes.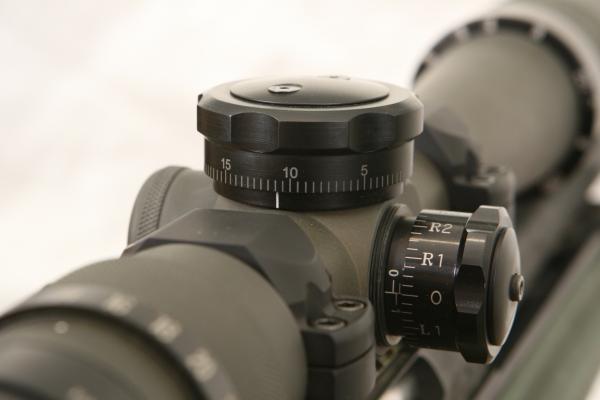 This US Optics SN-3 provides 90 half-MOA clicks per turn of its EREK elevation knob; its windage knob has 0.25-MOA clicks. The reticle has MOA hash marks to match.